Accessories to improve your cleaning effectiveness
The soft sweep tool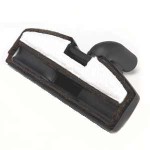 So many people have mostly hard floors in their homes today. Floors like; hardwood, tile, stone, granite and laminate. The Riccar soft sweep attachment combines the natural hair bristles to pamper floors but also has a removable microfiber pad that can sweep even the finest of particles. The microfiber pad picks up germs and bacteria and makes a buffing effect when vacuuming. This tool also features a double swivel neck so it can get into the tightest of corners and navigates around furniture.

Here is a testimonial for this great tool: "I am loving the Soft Sweep Tool! The arched bristles in the front allow easy pickup without just pushing crumbs around, and the washable microfiber cloth on the underside is great at collecting little bits and dust. We have 5 kids and lots of hardwood, I'm so glad I purchased this!
Thank you so much, Terry, for the recommendation!"
Kary Scholl
Riccar Volt. Add 50% more power to your system with this cordfree nozzle
A new break through in cleaning technology.
Your central vacuum system has a lot of suction from the motor unit usually located in your basement or garage. Now add a nozzle that has a powerful motor that creates even more airflow and suction cleaning your carpets better than ever before. No other nozzle has a motor that creates powerful airflow and suction along with turing a high speed revolving brush creating agitation and grooming action. And what's mind blowing is that this nozzle is cordfree! So it fits virtually every central vac hose. No need to buy a electric hose to get electricity to the nozzle.
The Volt has a 44 volt lithium ion battery that has an hours running time. Click here and see the spec sheet of this great new power nozzle.
You can purchase the Volt by clicking this link to nybakkestore.com.

The Vac&Shine System
Vac & Shine from Riccar Vacuums on Vimeo.
This rug/floor combi tool added with the Vac & Shine snap on base with pads and you vacuum while you mop. Whether you have rich hardwoods, tile or vinyl flooring, the Vac & Shine Bare Floor Cleaning System will have your floors looking beautiful. In one quick step, you can clean and shine your bare floors.

Fur-Get-It Pet Hair Tool

The best tool for vacuuming pet hair off any carpeted or upholstered susrfaces. It vacuums up the hair and cleans itself off all at the same time. No more cutting hair that has wrapped around a revolving brush.

Best Vacuum Attachment for Shedding, Flea Removal and Upholstery Cleaning
We love out pets. Nybakke is excited to offer the newest and best vacuum tool for dogs and cats. Excellent for shedding, flea removal and upholstery clean up. And the coolest thing is that it is self cleaning. Our first shipment is here and won't last long. Watch this video and then rush in to Nybakke, 814 IAA Dr, Bloomington, IL.
Add a VacPan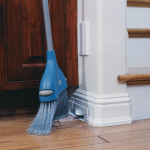 Many of people have called Nybakke and we have sent our installer out to add a vacpan to their existing system. A vacpan keeps you from getting out the 30ft hose everytime you want to vacuum your kitchen or any hardfloors when there is a quick spill to vacuum up. Just get your sweep broom and sweep the dirt and debris over to the vacpan, kick it on with your foot and see everything being sucked up by your system effortlessly. Nybakke can add a vacpan in many different cabinet like locations and all you need is to call us at 309-662-7272 or contact us and we will send our tech out to give you an estimate.