Supporting local family business
Nybakke, an Illinois Senator, Riccar and American Made Matters® supports local family businesses and buying American Made products which keeps our local communities strong and local economies thriving.
Why buy a vacuum from Nybakke?
Challenge Nybakke With Your Cleaning Problems
We are here to make you happy with your next vacuum purchase.
Thank you to all of our customers over the years. It is all because of you that can make this happen. Nybakke strives to give the best customer service and to educate our customers so they make the best decision as to which vacuum is best for their home.
Nybakke more than 85 years strong
BLOOMINGTON –
A local business is reflecting on 85 years of success.
The Nybakke Vacuum Shop at 814 IAA Drive in Bloomington held a ribbon cutting ceremony Monday afternoon to celebrate the occasion. Co-owner Terry Nybakke said the shop has succeeded partially because of the Nybakke's family commitment.
"My brother and I work together well, my folks have always worked together well. It's always been a family thing. We've always done well together," he said.
Founded in 1932 by Ben and Gladys Nybakke, the vacuum shop was taken over by their son Bernie and his wife Carol in the late 1960′s. The institution is now owned by brothers David and Terry.
Terry said the business has seen some ups and downs, but has weathered the recent recession fairly well.
"Since we both repair as well as sell, we see the trend," he said. "If money's tight and there's not as much disposable income we see a more repairs. So we see the trends that happen within the industry and within our business."
Members of the McLean County Chamber of Commerce, State Sen. Bill Brady, and Bernie and Carol Nybakke attended the ceremony.
"It's hard for us to even imagine 80 years," Terry said. "I never stopped to think about what that is and how we did it, I don't know. Every day we knew we came to work, we unlocked the door and people came in and we did business."
Paul Morello can be reached at [email protected].

Senator Brady talks about Nybakke and American Small Business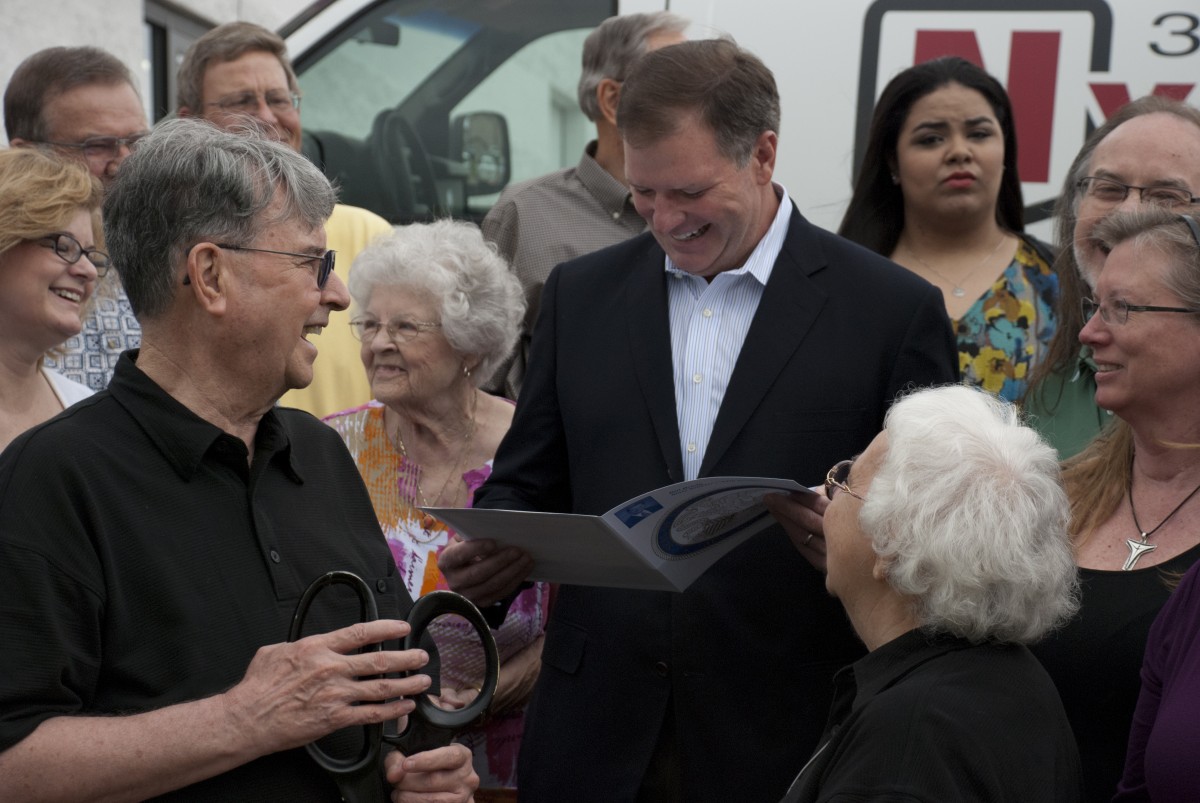 Nybakke would like to thank Senator Bill Brady of Illinois on his participation in our 80th anniversary. We are honored that he took time out of his busy calendar to come to our store and help us celebrate. Here is a quote from the Senator;
"I want to congratulate Nybakke Vacuum Shop for 80 years of business here in central Illinois . I am proud to know the four-generation Nybakke family business that cares about the vacuum cleaners they're selling and the people who sell them too. Nybakke has also made a name for themselves around the state of Illinois for selling mostly American-made vacuum cleaners and products. Supporting "Mom and Pop" local businesses that this country was built on and buying American-made products keep our communities strong and local economies thriving."

The history and future of Nybakke
History: Ben and Gladys Nybakke started Kirby Co. in the downstairs of their home, 1404 N. Main St., Bloomington, in 1932. They changed the name to Nybakke Vacuum Shop around the start of World War II. In the mid-1950s, the business moved to 219 E. Front St., and later 229 E. Front St. Their son, Bernie, took over in 1967. His sons, David and Terry Nybakke, joined the business in the mid-1970s and moved the shop to 814 IAA Drive, Bloomington, in 1993. Terry Nybakke's daughter, Megan Nybakke has grown into her role in the family business. In 2023, Nybakke has moved to their current location of 902 IAA Dr, Suite 1A, Bloomington, IL.
The brands of vacuum cleaners at Nybakke
Nybakke's history and company statement is to service what they sell. This is the biggest challenge of today's vacuum cleaners as the majority of vacuums are made to sell in discount or big box stores. Service and parts are not important to this type of market of selling as most people have accepted foreign made and disposability.
Nybakke has been selling Riccar for over 20 years and feel it is important to support those companies that stay in America, employ Americans and have there parts and inventory in America so you can have your vacuum for 10, 15, 20+ years just like your parents did and grandparents did.