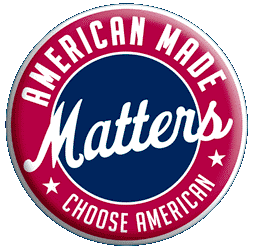 Most American consumers (surprisingly not all) want to buy American Made whenever possible. Nybakke Vacuum Shop has the Speedy Maid upright vacuum Made in USA by Fuller Brush .

This Fuller Brush upright combines high performance with lightweight and easy to use, click here for details.

The Speedy Maid upright vacuum models have become big sellers not only because they are Made in USA but also because they are one of the lightest uprights. In industry periodicals, poll after poll shows that those who expect to buy a vacuum cleaner within the next 6 months are looking for two important features: (1) a lot of power (2) lightweight and easy to push.
Many vacuum cleaners have become so heavy and clumsy as a lot of manufactures are trying to make one vacuum that can do the job of three vacuums. No one has been able to melt two or three vacuum designs into one and have it be as effective for each type of use and be lightweight and easy to use. The Fuller Brush Speedy Maid is a superior cleaning design called "Direct Air". The Speedy Maid places the motor and motor fan right next to the carpet or floor and blows everything behind the motor into the bag. Its design eliminates the hard bulky plastic bodies and on board attachments so it sheds a lot of pounds to the point where it weights only 8lbs.
The Speedy Maid is Made in USA, straight from the heartland in St James, Mo.! It is one of the lightest vacuums at only 8lbs and rated as one of the most powerful uprights for deep down embedded dirt cleaning and great for pet hair.
It automatically adjusts to the carpet heights and goes right onto bare floors as well. With soft rubber wheels and a rubber sealing strip on the base of the vacuum, you can safely vacuum your hard floors without scratching and it does not scatter the dirt around as so many other vacuums do. The Speedy Maid will come with a Frieze Adapter that snaps right onto the vacuum so it can raise up for higher pile carpets. It also is coming with seven total HEPA Certified bags which is a typical years supply.
The Fuller Brush Quick Maid is Cord Free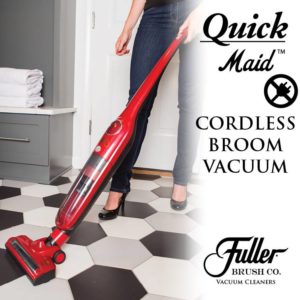 Cord Free
The Quick Maid is cordfree. Having a 18.8 lithium ion battery, it has about 22 minutes of cleaning time.
Lightweight
The Quick Maid is only 4.5 pounds and with a streamline design with long handle, it is extremely effortless to use.
Carpets to floors
With it's soft rubber wheels, it is great for hard floors and with it's revolving brush you can vacuum right over low pile carpets and rugs.
The Fuller Brush Jiffy Maid Pet Model
– The Only Bagless Upright With Local Service From Nybakke
– 1 Year Warranty
– Parts And Labor
– Easy To Empty Dust Container
– 12ft Extra Long Stretch Hose
– Pet Tool Turbo Hand Brush/Duster/Upholstery and Crevice Tool
– 5 Position Height Adjustment
– Headlight
– 30 Foot Cord
– HEPA Filtration
– Value Priced At $169.99
– Click Here To Buy On-Line